In the dynamic finance industry, reskilling is not an option but a necessity. Staying competitive and informed empowers individuals to make better decisions for the organization. Are you planning to reskill yourself this season? If yes, then you must consider the Financial Modelling Courses from the CFI Education.
We provide accredited online courses, in-demand certifications, and productivity-boosting tools and resources to our students so that they can upskill themselves and drive their careers in Banking and Finance.
Why is a Financial Modelling Course Crucial in Today's Scenario?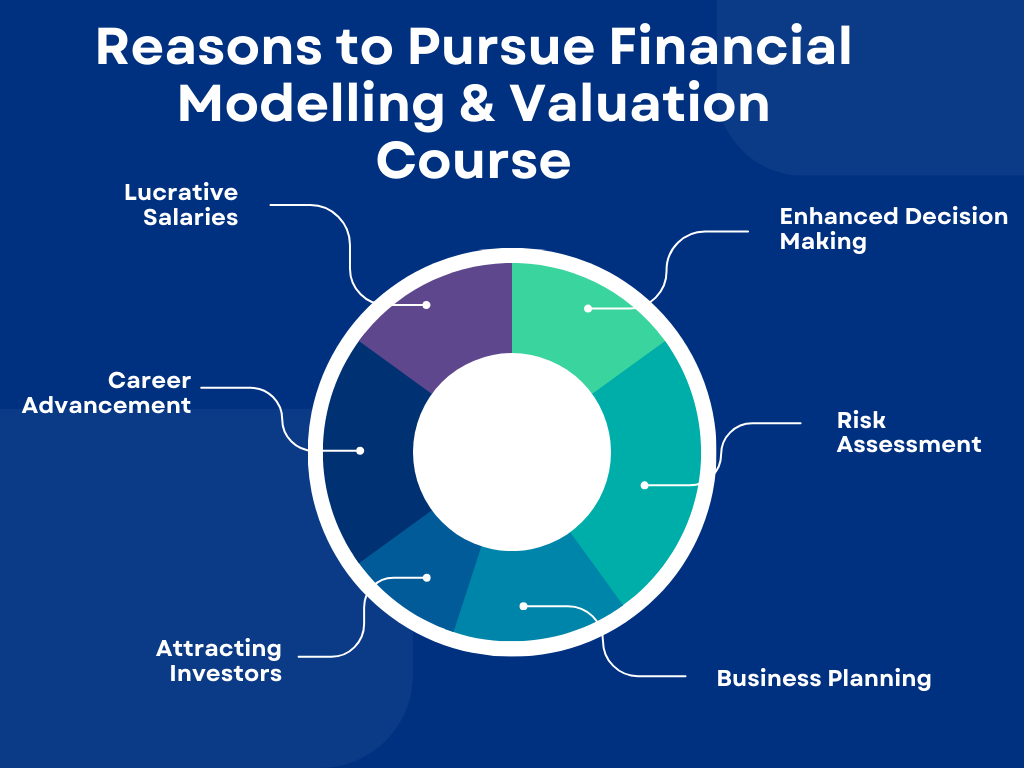 The Financial Modelling & Valuation Course provides valuable tools and knowledge to students that are necessary for decision-making, securing funding, and making strategic decisions.The other added benefits of pursuing a Financial Modelling & Valuation Course are-
1. Enhanced Decision-Making
Financial Modelling & Valuation Course enhances the decision-making abilities of the learners. The Financial models help in evaluating the financial health of the company. They also help in making informed decisions regarding investments, resource allocation, and expansion.
2. Risk Assessment
Financial Modelling & Valuation Course also teaches learners how to evaluate the underlying challenges and how to mitigate them.
3. Business Planning and Identifying Potential Areas for Growth
The Financial Modelling Course provides a roadmap for achieving financial goals. It also helps in identifying the potential areas where a business can progress. The Financial models will help you to evaluate the quantity of assets required and the ways to amplify profitability.
4. Attracting Potential Investors
It is easy to secure funding when the business is financially sound and profitable. Financial Analysts help in mitigating financial risks and improving profitability. Enhancing the financial stability of the organization will elevate your investment prospects.
5. Career Advancement
The Financial Modelling & Valuation course will unlock doors to various opportunities. You will become a valuable asset to the organization after the course. The chances of holding prestigious positions will also increase. Some of the positions are Financial Analyst, Business Analyst, Credit Analyst, Merger and Acquisition Associate, and Equity Research Analyst or Associate.
6. Personal Finance Management
The Financial Modelling & Valuation course will enhance your asset allocation, budgeting, and expense management. You will become far more equipped to make financially conscious decisions in life.
7. Enhances Entrepreneurial Success
When you deeply understand the perfect balance between asset allocation, expenditure management, and budgeting, you know how to run a business financially.
8. Lucrative Salaries
There is no doubt that careers in finance, medicine, and technology are financially rewarding. The entry-level salary for a Financial Modeling Analyst is between 5 to 8 LPA. The salary for a mid-level Financial Modeling Analyst is between 8 to 15 LPA whereas the salary for a senior-level Financial Modeling Analyst is between 15 to 35 LPA.
From Where Should I Pursue the Financial Modeling & Valuation Course?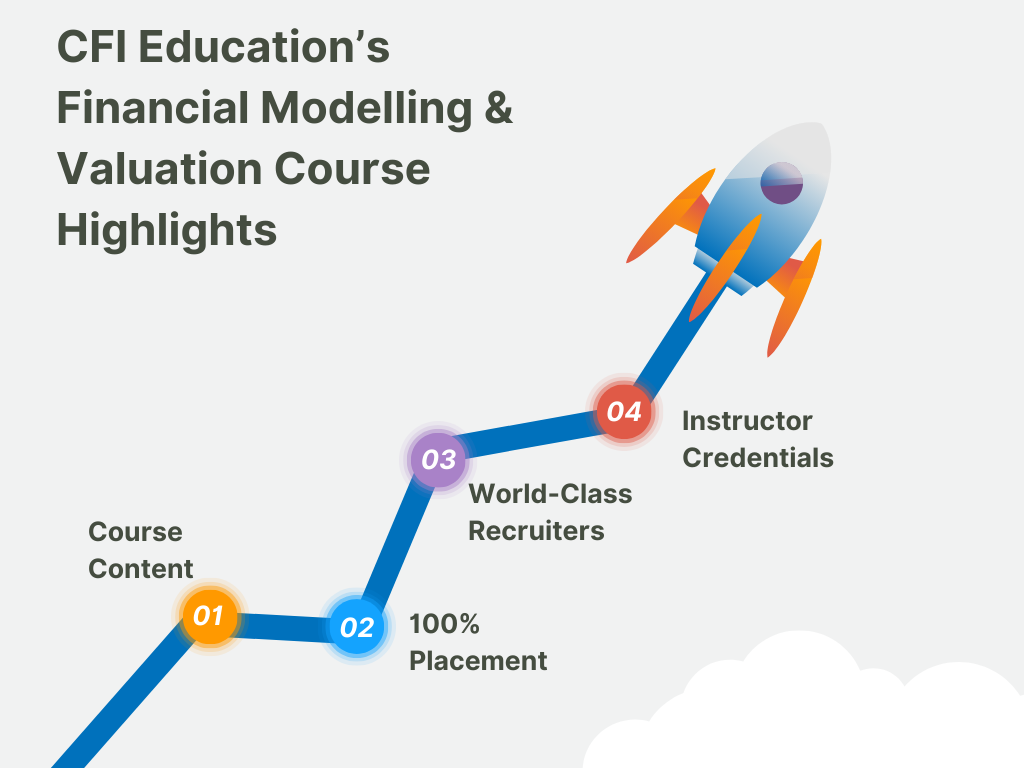 After learning about all the benefits of the Financial Modeling & Valuation Course, you may be wondering where to pursue it.Corporate Finance Institute (CFI) was founded in 2013 to provide world-class finance education. We have an experience of more than seven years and have trained more than 5,000 professionals. We also provide courses like CFA Level 1, Data Analysis using MS Excel,
Investment Banking Program
, and FMI Certification.The other added benefits of pursuing our Financial Modeling & Valuation course are-
1. Course Content
The Financial Modeling & Valuation course syllabus is divided into 10 parts. The syllabus covers topics like Basic to Advanced MS Excel training, MS PowerPoint skills, Financial Statement Analysis, Business and Financial Modeling Analysis, DCF Valuation, Comparable Company and Transaction Analysis, Introduction to Project Finance, and Company Profile and Pitchbook. After the program completion, we also offer soft-skill & CV building training and capstone projects.
2. Instructor Credentials
Our instructors are highly experienced and they bring real business problems to the classroom. Our instructors encourage students to develop curiosity and problem-solving capabilities.
3. Mode of Learning
CFI Education
offers both physical and online classes. We offer physical classes in Delhi and Mumbai and online classes all over India. The program is a blend of classes, project work, assessments, and soft skill training.
4. Capstone Projects & Soft-Skill Development
After the completion of the program, learners undergo soft-skill training. The communication skills and leadership & management skills are brushed. These skills help students crack interviews and land a dream job.Capstone Projects help students bridge the gap between academic theory and real-life learning. It also enhances their decision-making, problem-solving, and critical-thinking skills.
5. 100% Placement Support
CFI Education has a dedicated team of placement experts who work tirelessly to connect potential employers with employees. We also provide CV-building workshops and interview preparation sessions to our students.
6. Personalized Focus
Our batch size is compact so that every student gets personalized attention. CFI Education focuses on building technical expertise and uniform learning.
7. World-Class Recruiters
CFI Education has strong ties with world-class
recruiters
around the world. A few of our recruiters are Moody's Analytics, Visible Alpha, Yes Bank, PWC, Genpact, KPMG and many more.
8. Effective Training Approach
CFI Education understands the importance of holistic development and enhanced learning outcomes. To impart the right knowledge and skills we have divided our training into four parts. The first part is intensive training, the second part is capstone projects, the third part is soft skill training and the fourth part is soft skill training.
Conclusion
The finance industry is dynamic and to keep up with the times it is crucial to invest in reskilling. Reskilling is not an expense but a transformative investment in your knowledge, skills, and future. The Financial Modeling & Valuation is not just an educational program, but a gateway to financially rewarding opportunities.By pursuing the CFI Education Financial Modeling & Valuation course, you are gaining the knowledge and mastering the skill set essential to making informed financial decisions for the organization. It's now time to enroll in our Financial Modeling & Valuation course and unlock a world of opportunities in the financial world.