You might be wondering, what is Investment Banking and why should I pursue an Investment Banking course?  Investment Banking is a specialized program that focuses on providing financial advisory to corporations, financial institutions, and government entities. They specialize in providing financial advisory and capital-raising services. 
Investment Bankers help their clients raise capital through various means such as issuing bonds, and mergers & acquisitions. The key components covered in the Investment Banking Course are Financial Analysis, Corporate Finance, Mergers and Acquisitions, Capital Markets, Financial Instruments, and Client Relations and operations.
Why is an Investment Banking Course in India so popular?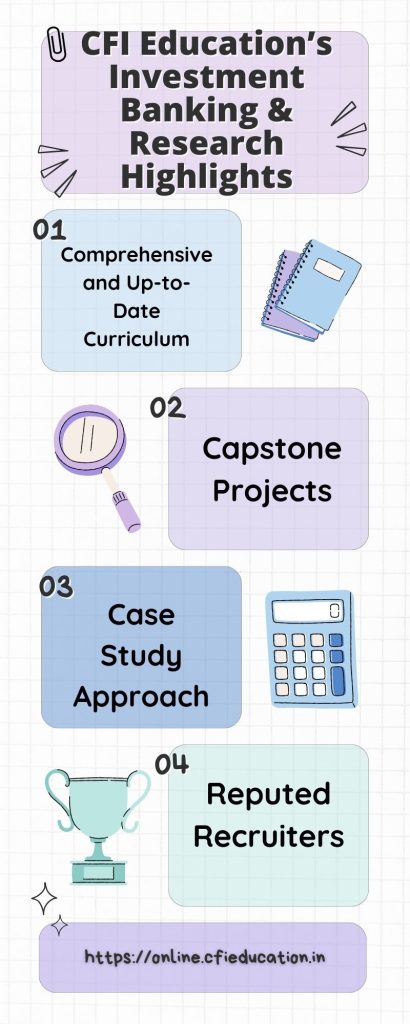 Investment Banking Course has become very popular in India. There are many underlying reasons for the popularity of the Investment Banking course in Delhi. Some of the popular reasons are-
1.Increasing Demand for Professionals
India has grown exponentially after liberalization in 1991. It is expected that India will reach high middle-income status by 2047. Due to this rapid economic growth, India is becoming an attractive destination for Multinational Corporations (MNC) and Foreign Direct Investments (FDI). In 2021-22 the net FDI inflow in India was USD 85 billion. The increased FDI inflow and rapid and healthy economic growth lead to increased demand for financial services (Investment Banking).
2. Lucrative Salaries
There is no doubt that financial and technological fields offer lucrative salaries. The average salary for an investment banker in India can range from 5 LPA to 85 LPA. The salary varies due to various factors such as skills, experience, company value, and location.
3. Increasing Mergers & Acquisitions
Strong interest from foreign acquirers, ambitious infrastructure plans, and policy reform are the main reasons behind the increasing mergers & acquisitions. Foreign investors are more eager to invest in India due to the current economic momentum and policy reforms. The Indian government is investing in infrastructure aggressively to develop infrastructure for a growing population and to reform the manufacturing sector.
Where Should I Pursue Investment Banking Course in Delhi?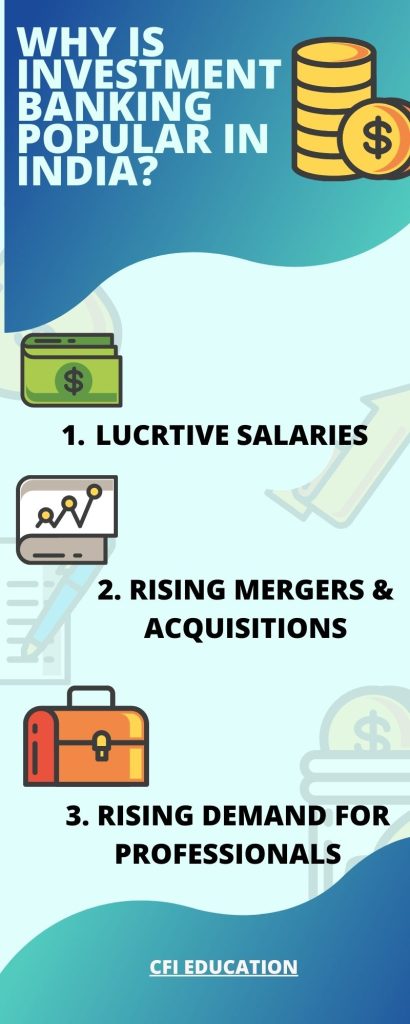 Investment Banking provides you with the necessary skills and knowledge to handle investment banking roles and responsibilities. During the program learners, get in touch with various aspects of Investment Banking such as mergers & acquisitions, portfolio management, and investment advisory.
If you are planning to pursue an Investment Banking Course in Delhi, then you must consider CFI Education. CFI Education was established in 2013, to provide the best financial education all over India. The other perks of pursuing an Investment Banking course from CFI Education are-
1.
Comprehensive and Up-to-Date Curriculum
CFI Education's Investment Banking Course is designed to meet the requirements and needs of the industry. The curriculum is divided into 21 sections. The curriculum covers Basic to advanced MS Excel Training, Financial Statement Analysis, Business and Financial Modeling, DCF Valuation, Comparable Company Analysis, Introduction to Project Finance, Industry Analysis, Benchmarking and Charts, Introduction to Credit Analysis, Introduction to Stock Market Investments, LBO Modeling, and M&A Merger Acquisitions.
2.
Experienced Faculty
CFI Education's Investment Banking Course faculty is highly experienced, passionate, and committed. Our faculty focuses on developing the skill set by introducing live business problems in the classroom.
3.
Case Study Approach
CFI Education uses the case study approach to educate the learners. The case study approach provides a comprehensive knowledge and overview of the problem or event. It also provides practical insights that can be easily used in similar situations. It also provides insights into the complexity and dimensions of the problem. The case study approach also helps in building theory, interdisciplinary perspective, and teaching tools.
4.
Capstone Projects
" All theory and no practice" makes learning incomplete. CFI Education understands the importance of practice and that's why we have ingrained a one-month capstone project after the program. 
During the Capstone Project, learners undergo rigorous training to integrate and apply all the knowledge and skills they have learned during the program. They also master and polish their problem-solving and critical-thinking skills. Capstone projects also help in building communication, problem-identification, and networking capabilities.
5.
Soft Skill Development
We all know soft-skill development is crucial for new-age professionals. Communicating your ideas clearly to convey the requirements of the company revolves around soft skills. CFI Education helps students build soft skills for cracking interviews and career advancement.
6.
Well-established and Credible Institute
CFI Education has vast experience and knowledge in training students. We have trained more than 5,000 professionals and completed 15,000+ hours of training. We have more than ten years of experience in training students. During these years, we have built a strong recruitment network to ensure that our Investment Banking Course students get great opportunities after the program.
7.
Free Learning Portal
CFI Education understands that learning is a never-ending process and that's why we have designed a learning portal. Our learning portal provides access to program content. Students can access free financial courses. We also have a blog section where students can learn about the new programs or latest developments in the finance industry.
8.
A Variety of Finance Courses
CFI Education offers a variety of finance courses. We offer Financial Modeling using MS-Excel, an Investment Banking Program, CFA Program Preparation, and Data Analysis using MS-Excel.
9.
Reputed Recruiters
CFI Education has established strong ties with reputable companies to place students after the program. We have a legacy of placing our students in the world's best and most reputed companies. A few of our recruiters are Moody's Analytics, Yes Bank, Visible Alpha, Aurum, Cians, PWC, Smart Cube, and many more.
There is no doubt that the Investment Banking Course is a lucrative career option. The program will create avenues for growth for the learners. You can take up the roles and responsibilities of an Investment Banking researcher, Financial Analyst, Credit Analyst, or Financial Advisor.
The opportunities are immense, but you must not forget that the Investment Banking jobs are very competitive and demanding. Every aspect of life comes at a cost. In return for a lucrative salary and prestigious role, work-life balance will be sacrificed.