CFA Level 1 Classes In Mumbai
About CFA Program Classes In Mumbai
CFA® Charter is a professional credential offered by CFA Institute to Investment and Financial professionals. CFA® exam consists of three Levels I, II & III and takes approximately 2 years (at a minimum) to complete. The average times taken is approx. 3-4 years.
CFI Education Mumbai Team follows a unique approach to prepare candidates for CFA Level I. It follows concept building approach with real life examples to train and coach candidates. So, candidates do not need to cram formulas and steps to solve questions.
Mumbai is a financial capital of India and requires huge amount CFA passed candidates for their advisory firms, wealth management and ITES / Offshore research firms. CFA passed candidates in Mumbai can expect great opportunities as Analyst in Corporate Finance, Equity Research, Credit, Investment Banking and as Business Analyst to start with. They go on to become Associates, Manager and Senior Manager in their domain
To earn a CFA Charter, candidates should have a bachelor's degree in any discipline, 4000 hours of acceptable professional work experience and passing the Level I, Level II, and Level III exams.
CFI Education
 offers below CFA preparation packages for our Mumbai students. We provide live online sessions to Mumbai students. Contact us at 
+91-9354266554
 to know more about the CFA Level 1 Coaching in Mumbai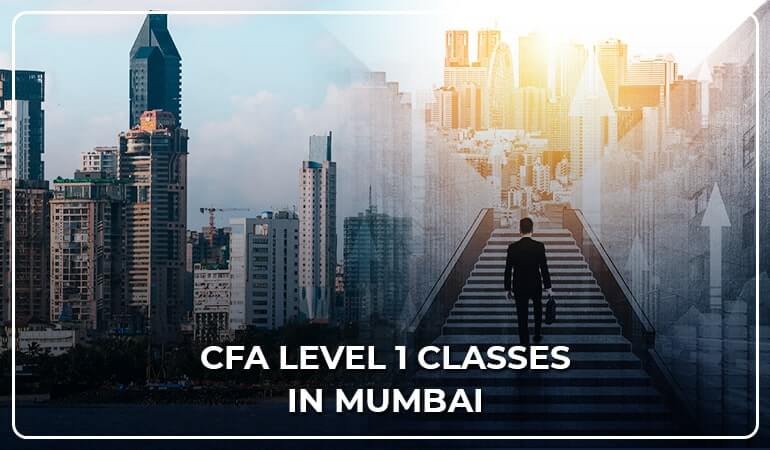 Classroom / Live Online
Self-Paced
Crash Course
INR 33000
INR 19999
INR 9999
Classroom / Live Zoom
Yes
–
–
Class Video Recording
Yes
Yes
–
Printed Study Material
Yes
–
–
Soft-Copy of Slides
Yes
Yes
–
Question Bank (3,000 MCQs with
detailed explanations)
Yes
Yes
Yes
Formulas / Summary Book
Yes
Yes
Yes
Mock Exams
Yes
Yes
–
Crash Course (Live Classes & Videos)
–
–
Yes
1-1 Doubt Sessions
Yes
–
–
Study Planner
Yes
–
–
Whatsapp Group
Yes
–
–
Online Email Support
Yes
Yes
Yes
Pass Protection Guarantee*
Yes
Yes
–
App Access (Android only)
Yes
Yes
Yes
BUY NOW
BUY NOW
BUY NOW
The exam tests the basic understanding of the concepts and their application in form of multiple choice questions. The program can be taken up by graduates or someone who is into the final year of his / her graduation.
Career after CFA® Program –
See below the top occupations for CFA® Charterholders
Portfolio Manager
Research Analyst
Consultant
Corporate Financial Analyst
Financial Advisor
Relationship Managers, Sales, & Marketing
Risk Manager
Investment Banking Analyst
Strategist
Trader
Broker
Performance Measurement Specialist
Private Banker
To become CFA® Program candidate, minimum eligibility is to:

Have a bachelor's (or equivalent) degree, OR
Be in the 2nd year of a bachelor's degree program,

To get the charter: Have four years of professional work experience in the investment decision-making process (accrued before, during, or after participation in the CFA® Program)
For more details on eligibility, visit CFA Institute site at 
www.cfainstitute.org
More Information About CFA® Program
"CFI Education is a Good coaching institute for CFA Exam preparation. I passed two levels of the Cfa exam in consecutive attempts and giving level 3 in 2019. I will suggest joining CFI Education Institute if you want to prepare for the CFA Exam."

"Great guidance and explanation of concepts that make it very easy to understand difficult topics. Have done CFA Level 2 and 3 coachings from CFI Education & cleared both levels in the first attempt. Highly recommended for CFA coaching."

"The examples/case studies used to explain the concepts was extremely relevant. Highly recommended to those looking for Financial Modelling, Investment Banking and CFA Prep Classes."

"I had a great learning experience with CFI Education that enabled me to get through CFA Level 1 exam. The institute provides highly qualified faculties for teaching different sections of the curriculum. Nice teaching methodology adopted."

"Very effective faculty for Financial modeling and prep for CFA level 1. Helped me in clearing both and helped me landing into relevant job... Owner is pretty experienced and humble guy, keeps you motivated for career plan."

"CFI Education is a great institute for you to learn financial modelling and valuation. The teachers are very cooperative and clear all doubts,even after completing the course Sandeep Sir always helps with the doubts. Placement Assistant is also very good. It's highly recommend if one wants to learn and want placement assistance also."

"CFI institute is a good place to learn financial modeling, all the teachers are very supportive and helpful. Teachers give attention to each and every student in the class. Even after class teachers are ready to clear doubts. Placement support is excellent here, special thanks to Sandeep sir for all his guidance and support."

"Great going CFI. Fantastic course and great teachers. Thanks Sandip to you and your team. The course is excellent and extremely useful! keep it up!"

"My daughter, Nain, took a number of classes with Sandeep. She found him to extremely helpful, accessible and knowledgeable. I don't generally write reviews but I think on this occasion, it is essential to recognize an instructor who selflessly found extra time in their busy day to help support a student. My deep appreciation for Sandeep and the Institute for hiring such talented and capable faculty."

"I would recommend CFI to every aspirants who is looking to get trained in finacial modelling and valuation. They have the best faculty. After completion of training they'll placed you with the best organization as well. I have made the bestest decision"

"CFI Institute is one of the finest institutes to get the basics right in financial modeling and valuation. The program integrates a good mix of advanced excel, financial accounting, and valuation methodology. All the topics like the Three-statement model, DCF valuation, Trading comps, and Transaction comps are very well covered. This curriculum is certainly a "Yes" for all the new joiners who are striving for their place in the financial modeling and investment banking area. Faculty act as a mentor who will advise Do's and Don'ts at each step starting from the program to the Interview process."

"Highly recommended to those looking for Financial Modelling and valuation course .Student support and placement assistance is a plus . Faculty is responsive to the queries.The examples / case studies used to explain the concepts was extremely relevant.Even after finishing the course I have access to the institute for career help, interviews etc."

"Faculty is very informative and helpful. With the help of their guidance I cleared interview for investment banking profile. Totally recommended to joiners."

"Go for it. Being a person who's miles away from any financial topic, it really made a difference. The faculties were super supportive, and as I needed a bit more guide than other do, it was perfect. They even conducted multiple doubt sessions. And before each class, we had a review for 30 minutes, and then we'd go with new topics. So, being a person from Engineering background who just wanted to explore the finance- it never hurts to learn something new, I'd recommended the CFI team 100%."